In comparing cordless drill with corded drill there are lots of points that must be considered before deciding to pick the best form the two. some of which are;
Torque control
Torque control is a feature that allows the drill user to adjust the amount of torque being delivered by the drill driver when inserting screws, it is also used to control the screws to the correct depth helping to prevent damage to the screw head or work surface. The cordless drill does have this features which means that it can no easy to ever-squeeze the trigger and sink screw below the surface of the material whereas corded drill does not.
Jawed chuck
The corded drill has jawed chucks while Cordless drills don't have jawed chucks. They have either a hexagonal magnetic chuck or hexagonal quick release chucks, meaning unless the user purchases an adapter, you can only put bits with hex shanks straight into them. Click here to know more.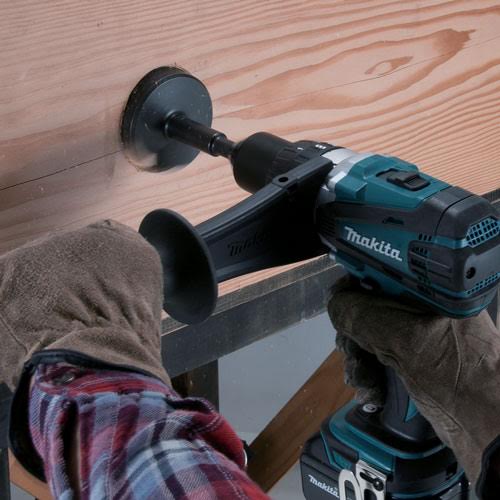 Lightweight
Without a doubt, cordless drills have the advantage of being more convenient as it is able to port anywhere as long as there is a charged battery attached, and many cordless models have the bets to keep its tool and easy to carry to anywhere. The cordless drill can give the user an excellent backup while working and are ideal to keep around the house for those quick, easy jobs. These features are not in the corded drill which makes the cordless drill more advisable to have than the corded drill especially for a contractor that go around to work.
Drilling of large holes
Corded drills are made in such a way that can drill very deep holes while working but cordless cannot drill because they lack the power although some cordless drill screwdrivers can drill pilot holes. Cordless screwdrivers also have hexagonal chucks, which mean unless you purchase an adaptor, you can't put drill bits with round shanks in them.
They can kick back
When we try to drill holes with large diameter or use large screws in materials that are tough to drill, there will be some resistance by the motor that will make it hard to turn chuck. In case this resistance is more, motor will fail to turn the chuck or drill the hole. In this case the mechanical power thus created for drilling passes from motor to drill and instead of drilling hole it passes to the hands of the user. This is known as kick back. Cordless drills have the capability to resist kickback.
They are relatively inexpensive
Cordless drill drivers are less expensive compared to corded drill drivers. Corded drill drivers are much more expensive that cordless drill driver because of some of its extra features that the cordless drill drivers do not have. Cordless drill prices start from around 20 pounds, making cordless screwdrivers one of the least expensive power tools.
They are not powerful
Compare to corded drill drivers, most cordless drill drivers are not powerful enough and are designed mainly for pilot holes and driving a smaller screw into softwoods.
They are compact
Working with corded drill screwdriver in a confined space makes works harder to do compare to cordless drill drives. Cordless drill drivers tend to be fairly small which means they are ideal for working in awkward or confined spaces.
Changing between bits quickly and easily
Most cordless screwdrivers have a magnetic or quick release chuck which allows the user to change between different bits quickly and easily. These features can also be seen in corded drill screwdrivers too but not as easy and quickly done like that of the cordless drill screwdrivers.
Power supply
In a place where there is no power supply, a cordless drill is advisable since its chargeable and easy to carry around, improvement has also been done to the battery since there had been complaint from the users that the battery isn't that strong and doesn't hold enough power to sustain the use of a large bit. There are times when corded drills are useless or not allowed, in a new building that hasn't been wired for electricity, the corded drill is not useful here since there are no means of getting electricity supply within the surroundings. A cordless drill is a most appropriate tool that should be used here as it has an in-builtlong-lasting battery that could help the user work for hours without any fear of shutting down because of electricity supply.
Many people will say battery get worse when not used for a long period of time since the cordless drill uses the battery, the fear is the battery to some contractors. A lot of effort has been made on this to meet up with the user's intention. Batteries made with the cordless drill nowadays are long lasting, doesn't get spoiled or reduced the cell in few days or month of unused. The batteries are majorly made to be extremely good since that's one of the features of the cordless drill.
Cord
One concern of a corded drill is the possibility that the cord becomes damaged, bending the cord over and over or reciprocating saw that accidentally gets cut along with the wood can wipe out the tool, this fear is out of it for users using a cordless drill.
Weight
Obviously corded drills will be lightweight because there is no battery attached with them and it makes them easier and convenient to work with. These are best suitable for projects that are long run and where the nature of work is heavier as being lightweight, they can be used comfortably. But newly made cordless drills are produced these days which also meet up to these features and some of them even beat the coded features. Some corded drills are made in such a way that less weight than the corded, they are relatively small and easy to work with compared to corded drill that has few things to take care of while working, one of the things the users have to take care of is the cord attached it.
…